Guerrero Olivos promotes two new partners
Guerrero Olivos has announced the incorporation of César Gálvez and Felipe Frühling as partners of the firm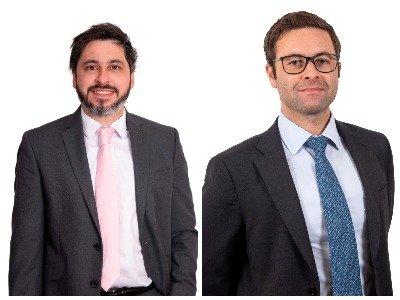 Chilean law firm Guerrero Olivos has promoted César Gálvez and Felipe Frühling as partners as of February 2022.
This appointment is part of the firm's strategy to continue growing and strengthening, especially in the areas of Energy and Natural Resources, as well as Corporate.
César Gálvez (pictured left) is a member of the Corporate/M&A, Capital Markets and Finance groups. He specialises in cross-border transactions and capital markets, especially debt issuance, mergers and acquisitions. César holds an LL.M. from the University of Pennsylvania and was an international associate at Winston & Strawn, New York.
Felipe Frühling (pictured right) is a member of the Energy, Environment and Natural Resources group. He specialises in mergers and acquisitions of companies in the energy sector, due diligence processes and the financing and development of energy projects. Felipe holds an LL.M. degree from Columbia University, New York.