Tauil & Chequer and Machado Meyer advise on debentures issue by EcoRodovias
Tauil & Chequer Advogados advised EcoRodovias, Machado Meyer acted as counsel to the arrangers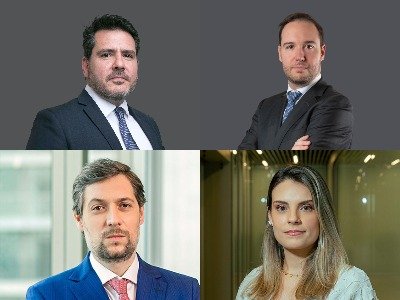 Tauil & Chequer and Machado Meyer acted for EcoRodovias Infraestrutura e Logística in the 6th debenture issue that raised R$ 950 million.
The issue was conducted through a public offering with restricted placement efforts, pursuant to CVM Instruction 476.
The funds raised by Ecorodovias will be used to repay the fourth series of the company's seventh issue of commercial notes.
Tauil & Chequer Advogados advised Ecorodovias, with partners Carlos Motta (pictured top left) and Luis Montes (pictured top right) and associate Thatiana Siqueira.
Machado Meyer Advogados represented Banco Bradesco BBI S.A., UBS Brasil Corretora de Câmbio, Títulos e Valores Mobiliários S.A. and Banco Safra S.A., which acted as coordinators of the offer, and relied on a team led by partner Adriano Schnur (pictured bottom left), partner Fernanda Cury Messias (pictured bottom right) and lawyers Rafaela Alencar Gomes, Ana Carolina Carpegiani Peyres Neves and Vitor Pisarro Bradley De Araujo.