Alcogal advises APC Group on the sale of its subsidiary APC Buró
19 April 2022
138

2 minutes read
Alemán Cordero Galindo & Lee has counselled APC Group on the sale of a majority stake in APC Buró to Experian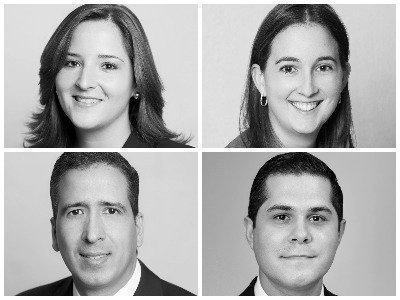 Panamanian firm Alemán Cordero Galindo & Lee has advised Grupo APC on the sale of a majority stake in its subsidiary APC Buró to Experian Latam Holdings Unlimited, a member of the Experian group.
The closing of this transaction is subject to regulatory and contractual approvals and is expected by sometime in the middle of the year.
Credit bureau APC Buró, which began operations in 1957, provides consumer credit reports. Experian is dedicated to information services that help businesses and consumers around the world access credit and maximise financial inclusion.
Alcogal's team consisted of partners Patricia Cordero (pictured top left), Rita de la Guardia (pictured top right), Jaime Castillo (pictured bottom left), and associate Rafael Amar (pictured bottom right).