Pinheiro Neto and Cescon Barrieu act on Dimensa's acquisition of Vadu
Pinheiro Neto Advogados advised Dimensa; Cescon Barrieu Advogados advised Vadu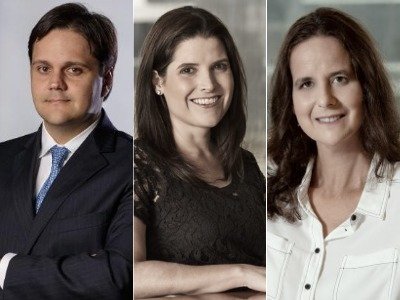 Pinheiro Neto Advogados advised Dimensa, a joint venture of Totvs and B3, which has acquired 100% of Vadu, a fintech that automates and brings intelligence to the process of prospection, execution and credit analysis and post-credit monitoring, which was advised by Cescon Barrieu Advogados.
The deal value was R$40 million.
The transaction consolidates Dimensa's position in the technological and financial market, since the transaction contributes, along with other acquisitions, to the company's growth and portfolio expansion.
Pinheiro Neto Advogados assisted Dimensa with partner Fernando M. Del Nero Gomes (pictured left), counsel Renato Holsback and associate Luiza Kauss Alarcon.
Cescon Barrieu Advogados advised Vadu, with partners Cristina Bueno (pictured center) and Tania Liberman (pictured right) and associates Mariana Bulcão and Luísa Crosta.